(

translated with Google

)

Freifunk
the online version of the "advertising card":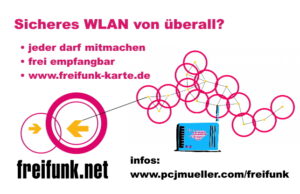 Save → by right-clicking
My knot:
What is Freifunk?
It is the year 2050, we live in a time when we are no longer dependent on overpriced internet contracts. A large number of small communities that are well networked make it possible to communicate with one another from almost anywhere in the world via WLAN. We have built up a gigantic network that is not only "freely" available to everyone, but also not so easy to switch off or listen to. The gigantic Freifunk network consists of a large number of smaller nodes that are brought together under the individual communities and are networked from community to community. This creates a kind of Internet that allows us to no longer be dependent on DSL providers or the state "infrastructure". However, this is only possible as long as everyone participates and the individual routers can connect from window sill to window sill and from roof to roof.
Freifunk is no longer a dream of the future, and many people have been building it up for years at: https://www.freifunk-karte.de/ [advertising].
Let us transmit texts, music and films together via the Freifunk network and share, chat, telephone and play online games together.
Free networks are being built and maintained by more and more people on their own. Each participant in the freifunk network provides its WLAN router for data transfer to the general public. This extends the network and opens up the possibility of transmitting data such as text, music and films over the freifunk network or to chat, make calls and play online games together via services set up by participants. For this we use mesh networks [advertising]. Many also make their Internet access available and give others access to the global network. Freifunk networks are do-it-yourself networks. For the setup, we use the freifunk firmware on our WLAN routers, a special Linux distribution. Local communities [advertising] then make the software customized to their own needs available on their websites. In villages and towns there are more and more freifunk groups that meet regularly.
The freifunk community is part of a global movement for free infrastructures and open radio frequencies. Our vision [advertising] is the democratization of communication media through free networks. Freifunk communities around the world are tackling the practical implementation of this idea. And you can join Freifunk too! How, you can find out here [advertising]!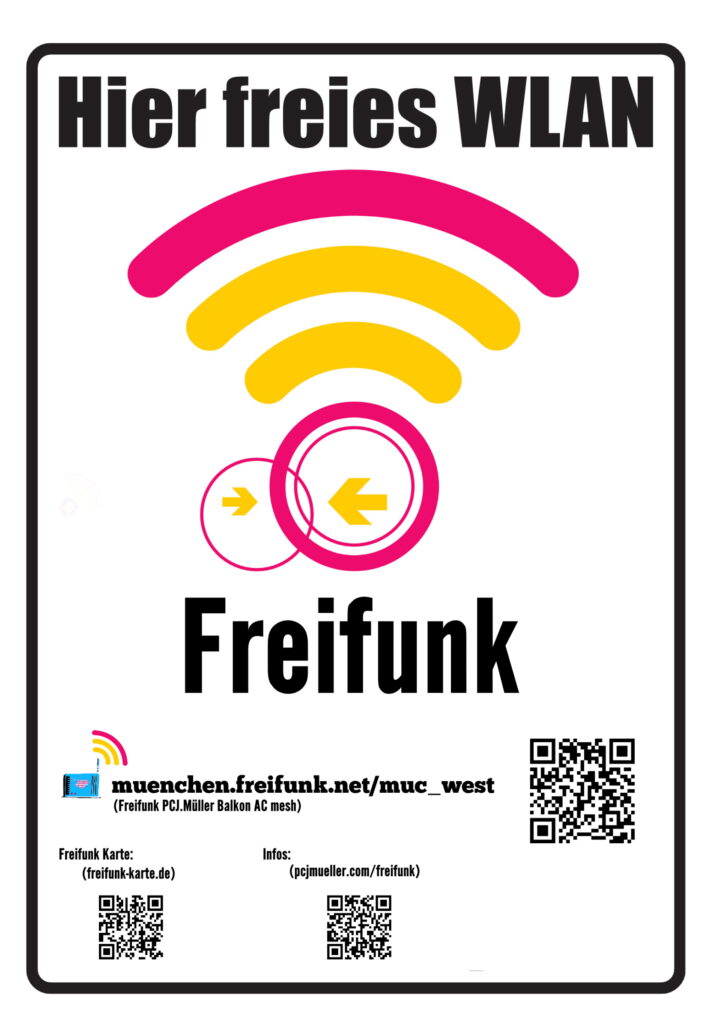 How do I find a WLAN node?
Here you can find a node on Freifunk's "Interactive Map [Advertising]".
link-Why are there different SSIDs? [Advertising] link
The WLAN SSIDs (names) are structured according to the following pattern:
My Freifunk node "Freifunk PCJ.Müller [advertising]" has for example the SSID "muenchen.freifunk.net/muc_west"
What stands for the city of Munich (muenchen.), The wireless network itself (freifunk.net/) and the segment in this case Munich West (muc_west).
If you have chosen a WLAN node and visited it, you can easily connect!
To date, the WLANs are still without a WPA key (password).
Interference liability:
link- "Free, open radio networks in German-speaking countries" [advertising] -link
please read carefully!
How do I participate?
Do you like our goals and would you like to join Freifunk? We are happy about it! There are
many opportunities to contribute to your local community, just start! For example:
Everyone can link Freifunk on their website or support our campaigns. more [ ads ]
Ask the community in your area how you can participate and set up a Freifunk router at home. more [ ads ]
Everyone can support the local communities and projects with donations. more [ ads ]
Do you want to found a new Freifunk community? Here are some tips to get you started. more  [ads ]
Creatives and designers can design stickers, flyers, websites, applications, T-shirts or anything. We need people who can write, photograph, translate or make videos.
Hobbyists, programmers and administrators can help us to maintain and further develop our hardware, firmware and services or to invent new applications for the community network.
Free networkers can set up their own services, which we integrate into the freifunk website.
Freifunker are open to new things, support each other, learn from each other and work together to ensure that the free networks grow socially and technically.
#wwwpcjmuellercom #pcjmueller #geek #nerd #avm #openwrt #cool #freifunk #freifunkmuc #freifunkmünchen #ffmucnet #ffmucdotnet #7cff4de545ff #happynewyear #2020 #münchen